it has been too long, blog. i truly miss you and i think of you often.
ever since my new baby arrived, i have had no time except for my newborn and my toddler and sometimes for my mansome handboy (i.e. – my main man dude hubby). the only thing i can do for the things i want to do is to think about them – i.e. blogging, drawing, chatting with friends (who are now my imaginary friends), sleeping, and sometimes eating.
but here i am blog.
i actually have a free moment and i want to tell you that among my busy hectic but fun loving newborn/toddler days, i still have desires and wishes and wants for stuff.
this is just a beginning. there are SO much more i want but i dont have enough time to tell you all about it. enjoy these and feel free to get them for me, my blog readers. i miss you too much and when i find the technology to add an extra 12 hours onto one day or when i find the technology to freeze time (like Evie from Out of This World), i will be back to tell you more about me and my life and my stuff and my newfound superfantastic baby + toddler.
xoxo
me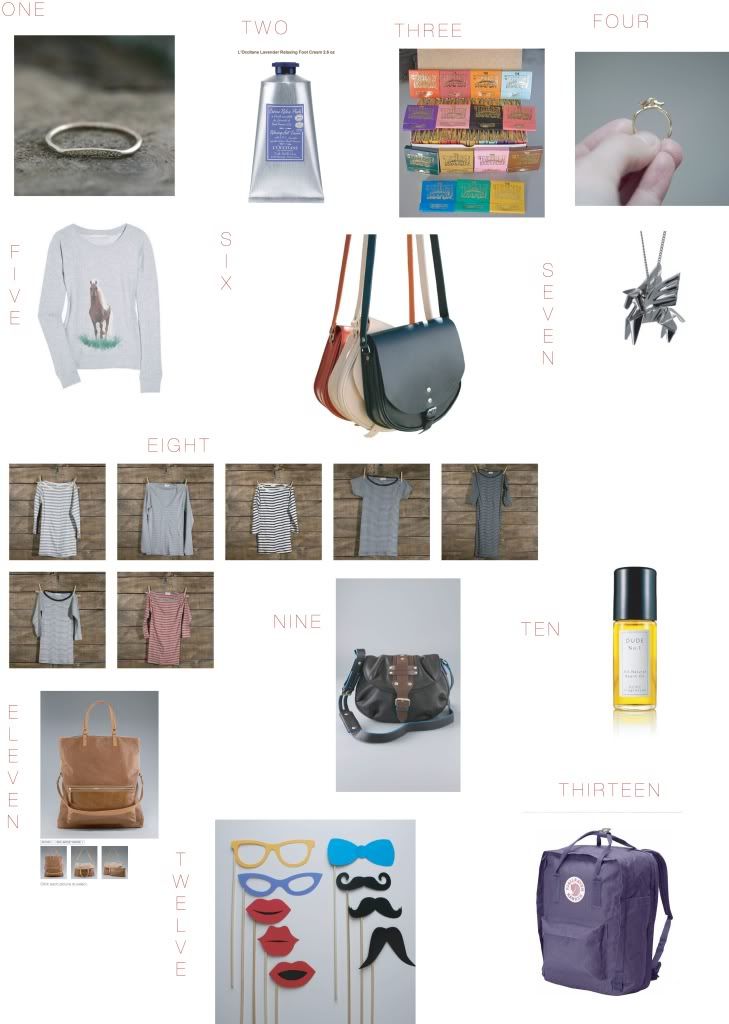 1) signet stardust ring-14kt gold
2) Lavender Relaxing Foot Cream
3) Incense Matches – not a crazee incense lady but would be good to have it in our guest bathroom for those moments that no one likes to be in. you know what i am talking about and i am not afraid to say it.
4) Wedzu's kissing bird ring
5) Stella McCartney: Horsey printed sweater
6) Swedish Hasbeens: large shoulder bags in red please
7) Claire & Anaud's Origami jewellery pegasus necklace. i really do want this around my neck please.
8) New High (M)art shirts – any one of these stripes shirt would be great for an everyday wear and i am loving stripes these days.
9) Twelfth St. by Cynthia Vincent – been looking for a small/medium-ish cross over bags to carry all my stuff along with some toddler toys + infant essentials on days that i dont feel like carrying a diaper bag.
10) MCMC Fragrances – Dude No. 1 – dont know what this smells like but i would like to smell it and therefore would love to get it for my dude so that i can smell the dude on my dude. (maybe this was for The Dude on Big Lebowski?)
11) Lanvin Dear Danae Foldover Tote – this could be perfect for my i dont feel like carrying my diaper bag day because i want to use a regular bag but yet i need it big enough so that i can carry all my kids stuff but not too big so my arms are free to grab my kids kind of day. (its pretty much how i feel everyday now.)
12) Props on a Stick – this would be great for me and my little dude to play dress up especially on a rainy day or just about any day when we feel like being somebody else for one second.
13) Fjallraven 15″ Computer Bag – i just got the purple Fjallraven day bag (for my upcoming trip – well it was more of an excuse to buy another bag) but i also want this so that i can carry my soon to arrive iPad2 with me.